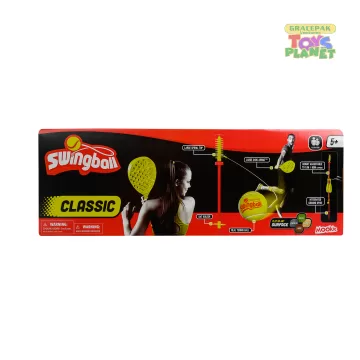 Welcome to our toy blog amidst the July chill, where we dive into the wonderful realm of Mookie Toys! With a rich history and a commitment to quality, Mookie Toys has become a trusted name in the toy industry and here at Gracepak. Join us as we explore their extensive range of products, designed to bring joy, learning, and outdoor adventure to children of all ages.
Mookie Toys has been captivating young hearts since its establishment. Founded in 1987, this innovative company has always strived to create toys that inspire imagination and promote active play. The brand's mission is to provide children with fun experiences while nurturing their physical, cognitive, and social development. Over the years, Mookie Toys has garnered numerous accolades for its commitment to excellence and safety. Mookie Toys boasts of an impressive collection of toys and games that cater to different age groups and interests. Let's take a closer look at some of the brand's remarkable product categories:
Outdoor Play Equipment: Mookie Toys offers a fantastic array of outdoor play equipment that encourages kids to embrace the great outdoors. From swing sets and climbing frames to trampolines and playhouses, these durable and engaging products provide endless opportunities for adventure and physical activity.
Sports Toys: If your child is a sports enthusiast, Mookie Toys has got you covered. They offer an extensive range of sports toys, including soccer goals, basketball sets, cricket sets, and more. These toys not only introduce kids to the joy of playing sports but also enhance their motor skills and coordination.
Ride-Ons: Mookie Toys' ride-on vehicles are perfect for little adventurers. From balance bikes and scooters to pedal-powered cars and tricycles, these ride-ons promote balance, coordination, and confidence as children explore their surroundings.
Inflatable Toys: Mookie Toys' inflatable toys offer a world of imagination and creativity. With inflatable play centers, bouncy castles, and water slides, kids can enjoy endless hours of active play while developing their social and motor skills.
That said, here are a few standout products that have captured the hearts of children and parents alike:
Super Swingball: The Super Swingball set is a must-have for outdoor playtime. It features a sturdy pole and a tennis ball attached to a string, allowing kids to swing, hit, and rally, enhancing their hand-eye coordination and tennis skills.
Mini Street Hawkz: The Mini Street Hawkz range offers thrilling remote-controlled cars designed for high-speed racing. With their sleek designs and precision controls, these cars provide an adrenaline-fueled experience for young car enthusiasts.
JumpSmart Trampoline: The JumpSmart Trampoline combines fun and fitness in one exciting package. This bouncy trampoline features a handlebar for stability and interactive games that teach counting, music, and more. It's an excellent way for kids to burn energy while having a blast.
Mookie Toys places the utmost importance on quality and safety. They follow stringent manufacturing processes and adhere to international safety standards, ensuring that their toys are built to last and are safe for children to use. Additionally, their commitment to sustainability is evident through their use of eco-friendly materials and packaging.
Don't just take our word for it! Here are a few snippets from delighted Mookie Toys customers:
[Loice]: "My kids absolutely love the Super Swingball set! It's durable, easy to set up, and keeps them entertained for hours in the backyard. No more fighting with my children on excessive screen time"
– [Kipyegon]: "The Mini Street Hawkz cars are a big hit with my son. The speed and maneuverability are impressive, and the quality is top-notch."
You can find Mookie Toys' products through our official website-www.gracepaktoys.co.ke, and our selected resellers and online marketplaces like Jumia and SkyGarden. Our Mookie toys prices vary with size and versatility, but overall Mookie Toys provide highly competitive toys without compromising on quality.
Mookie Toys has undoubtedly earned its reputation as a beloved toy brand. From outdoor play equipment to sports toys and ride-ons, their diverse range of products caters to the interests and developmental needs of children. With a commitment to quality, safety, and innovation, Mookie Toys continues to inspire countless hours of play, imagination, and adventure for children everywhere.
So, why wait? Explore the world of Mookie Toys today and witness the joy and wonder these toys bring to the lives of children. Let the adventure begin only at Gracepak Ventures-Toys Planet!